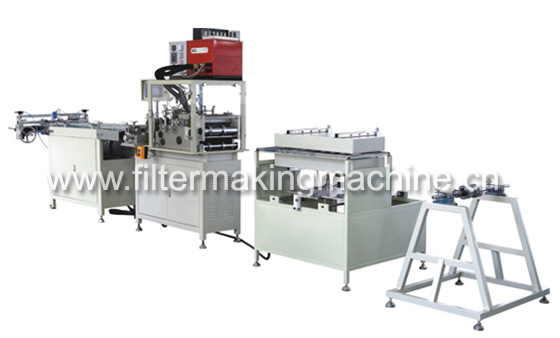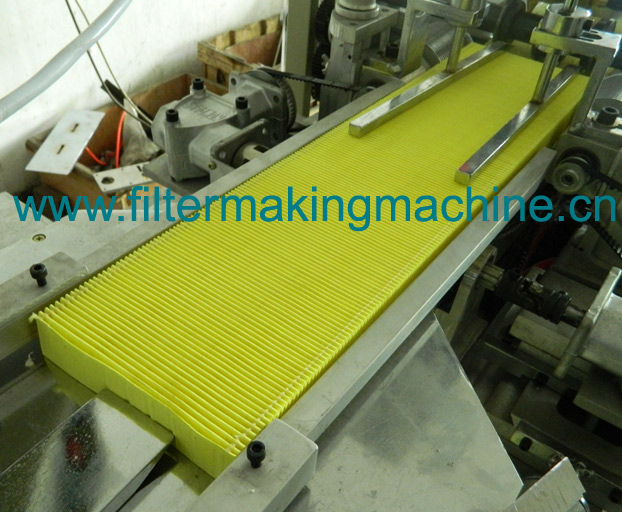 Consists
1.Paper de-coiler
2.Heater
3.Water steam device
4.Pleating machine
5.Hot-melt unit
6.Belt conveyer
7.Automatic counting
Specification
1.Widh:90~320mm   Pleating height:20~58mm
2.Speed:5~25m/min (adjustable)
3.Temperature range:0~300 centigrade
4.Heater power:8.5kw
5.Transmission power of pleater:0.75kw
6.Conveyer belt transmission power:0.25kw
7.Conveyer belt speed:0~5m/min.(adjustable)
8.Working air pressure:0.6Mpa
9.Power supply:380V/50HZ
10.M/C weight:1100kg
11.M/C size:7500*950*1750mm(L*W*H)
Features
1.Both the work speed of the machine and transmission speed of conveyer belt are controlled by computer,and can be easily adjusted.
2.Both impression and bubble formation are finished on the identical pairs of rollers with high precision.
3.The temperature can be predetermined in accordance with the requirement of the technological process.When the pleating machine runs and the heater will start to work automatically.
4.It adopts the water steam device,which is advantageous to prevent the paper from breaking when it is marked by rollers.
5.Melt quickly,the glue dispensing quantity can be easily controlled by frequency converter.
6.Set pressure control unit in glue feeding circuit to ensure the circuit safety.
7.Both the rubber hose and nozzle are independently temperature controlled,and easy to operate.
Applications
It is technically used fo manufacturing the car panel filter.